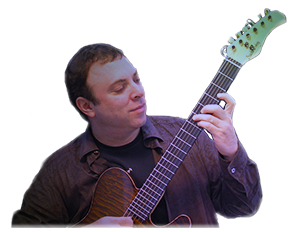 Mark Chosak, a native of Los Angeles, has been playing guitar and performing since the age of 10. Upon entering college, he began his serious study of music, completing a B.A. degree in music at UCLA (winning the Atwater Kent and Gil Rodin awards for guitar performance) and performing with such jazz-greats as: George Cables, Poncho Sanchez, Buddy Collette and Bobby Shew; and then continuing his studies at the Grove School of Music, where he graduated with honors. Throughout his career, Mark has performed and recorded with various artists for live concerts, film, television and sound recordings. He is active in Los Angeles and San Diego both as a session guitarist and as a composer/producer.
In addition to hundreds of commercial compositions Mark has produced as a composer for film, television, games and advertising, he has released two original albums.  His latest, "Go Play Outside" features legendary vibraphonist, Mike Mainieri (Steps Ahead, Paul Simon, George Benson, Buddy Rich and others), and many of San Diego's finest musicians: Tim Newton (drums), Kevin Freeby (electric bass); Rob Thorsen (acoustic bass), Bobby Cressey (keyboards); Tripp Sprague (sax), Brad Steinwehe (trumpet) and Tommy Aros (percussion).  Mark's previous recording, "Perception" features outstanding performances by some of L.A.'s best session recording musicians including: Bob Sheppard (sax and flute), Jason Harnell (drums), Bill Fulton and Tom Zink (keyboards), Ric Fierabracci (electric bass), Trey Henry (acoustic bass), Anne King (flugelhorn), and Ramon Yslas (percussion).
Mark was featured as the lead guitarist for "A Night With Janis Joplin", a fantastic and fun retrospective of her life with an on-stage band and powerful singers.  The Broadway show has been touring nationally to sold-out audiences.
In addition to live performances, his guitar playing can be heard in many television shows, video games and sound recordings.
Mark is currently performing regularly with Steely Jam (a Steely Dan tribute band in Los Angeles); "The Struggle", Semisi M'au & "Fula Bula" (San Diego); and has toured and performed with such artists as: the Mark Harrison Quintet, the Bill Fulton Band, the Emilio Palame Band, Sully And The Blue-Eyed Soul Band; Burt Brion, Larry White, Doug Fieger (The Knack), Bliss Bomb, tribute bands such as Pretzel Logic, Doctor Wu, Stephen Sorrentino's Elton John tribute band, Thom Teresi, Scott Wilkie, the Kait Kingston Blues Band, and others. Mark has also performed for musicals, corporate events, and local concerts in the So. Calif. area.