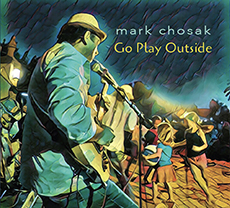 – The new jazz album, "Go Play Outside" is now available! It features legendary vibraphonist, Mike Mainieri (Steps Ahead, Paul Simon, Buddy Rich, George Benson and many others) and many of San Diego's finest musicians: Tim Newton (drums), Kevin Freeby (electric bass); Rob Thorsen (acoustic bass), Bobby Cressey (keyboards); Tripp Sprague (sax), Brad Steinwehe (trumpet) and Tommy Aros (percussion). The album is available for purchase from Amazon, Apple iTunes and other online retailers.
– Working on that studio tan lately, composing music for several TV shows – many tracks featuring guitar  For more information, please visit my composing website at: www.markatomusic.com.
– Still going strong with Steely Jam in L.A. and enjoying the great San Diego music scene, playing with talented bands in all genres.