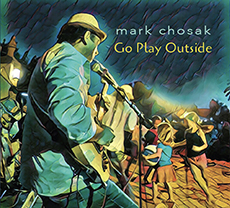 – The new jazz album, "Go Play Outside" will be released soon. It features legendary vibraphonist, Mike Mainieri and many of San Diego's finest musicians: Tim Newton (drums), Kevin Freeby (electric bass); Rob Thorsen (acoustic bass), Bobby Cressey (keyboards); Tripp Sprague (sax), Brad Steinwehe (trumpet) and Tommy Aros (percussion). The album will be available for purchase here as well as Amazon, Apple iTunes and other online retailers.
– Working on that studio tan lately, composing music for several TV shows – many tracks featuring guitar  For more information, please visit my composing website at: www.markatomusic.com.
– Still going strong with Steely Jam in L.A. and enjoying the great San Diego music scene, playing with talented bands in all genres.